About the Brunswick Pipeline
The Brunswick Pipeline extends from the CanaportTM LNG terminal through southwest New Brunswick to an interconnection with the Maritimes & Northeast Pipeline near St. Stephen, New Brunswick.
Remember - pipeline maps, markers, and locators provide the general location of a pipeline, but are NOT an alternative to calling before excavating. If you plan to cross the pipeline or do some digging, always first click or call before you dig. Our toll-free Dig Line: 1-888-410-2220.
Signage
---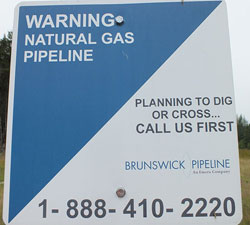 The Brunswick Pipeline right-of-way is clearly marked. Pipeline markers like this one are used to indicate the approximate location of a natural gas pipeline and to provide contact information. Patrol aircraft also use the markers to identify the pipeline route. Markers should never be removed or relocated by anyone other than a pipeline operator.
Pipeline maps and markers provide the general location of a pipeline, but are not an alternative to contacting the Click or Call Before You Dig number, 1-888-410-2220, before digging or crossing the right-of-way.
Brunswick Pipeline Quick Facts
---
145-km natural gas transmission pipeline
Project development and construction cost: $500 million
Construction began in November 2007 and was completed in early 2009
First commercial gas flow began July 16, 2009
30-inch (76.2 centimetre) pipe diameter
Maximum Allowable Operating Pressure (MAOP): 1,440 pounds per square inch (psi)
Design capacity: 850,000 dekatherms per day (DTH/d)
Customer base: Repsol Energy Canada Ltd (25-year firm service agreement)
Regulated by the Canada Energy Regulator (CER), as well as other federal and provincial authorities
Regular Maintenance and Patrols
---
The Brunswick Pipeline is buried for its entire length, except for seven above-ground facilities. The land above the buried Brunswick Pipeline is the pipeline right-of-way. A pipeline company is permitted the right to use that land for the operation, inspection and maintenance of the pipeline.
Even though our pipeline is mostly buried underground, pipeline operations employees conduct many regular above-ground maintenance activities on the pipeline right-of-way to ensure the safety and integrity of the pipeline.
Some of these regular activities include:
Typical maintenance activities like annual above-ground leak surveys, corrosion protection system maintenance and operational and safety inspections.
Pipeline valves and above-ground facilities are checked regularly to ensure safety and integrity.
Brunswick Pipeline operations staff also maintains the right-of-way with regular mowing and clearing activities. This ensures that our right-of-way is clearly visible to foot and aerial patrols.
Routine patrols of the right-of-way, such as daily and weekly patrols, security and aerial patrols.
Pipeline Map
---